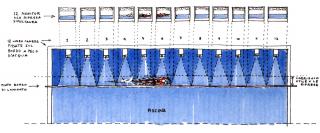 STUDIO AZZURRO: SKIZZE MULTI-MONITOR-INSTALLATION (1984)
Case Studies on Restoration
Methods for Long-Term Preservation of Media-Art Installations
Date
01.01.2006 - 01.01.2011
Between 2006 and 2011 the IMAI Foundation studied the following works in case studies: Il Nuotatore (va troppo spesso ad Heidelberg) (1984) by the artists' group Studio Azzurro, In Situ (1986) by Gary Hill, Exchange Fields (2000) by Bill Seaman, Testcuts I (2010) by Katharina Sieverding, and Light Composition: Documenta 8 (1987) by Nan Hoover.
What restorer or curator is unfamiliar with the challenges and problems that can arise in the daily process of preserving and presenting of media art works: Can the difficult-to-find and high-maintenance U-Matic players of an exhibition from the early 1980s be replaced in the future by DVD players? On what standards should the migration of videos to new storage media be based? Can contemporary flat screens replace tube monitors? What are the spatial requirements for a particular projection? What projectors are suitable for it? What are the aesthetic components inherent to the work of art that should be brought to bear in future presentations as well? And who defines these criteria?
The problems that arise in the area of restoring and conserving media art installations are as diverse as technologies and materials use. For that reason, there cannot be standard solutions for preserving the substance of this complex, technology- and time-based art form. The five case studies between 2006 and 2011 took the approach of citing different types of media art installations as examples and using the results derived from their individual circumstances to draw general conclusions that can apply to comparable works. Each case study entailed not only inventorying all of the media, techniques, and technologies originally used but also evaluating the problems of conservation. In a further step, the path to and form for restoring the work were worked out, or it was asked under what conditions conservation of the work was possible at all. For example, it had to be considered whether software could be reprogrammed to preserve a work of art for the long term and whether the experience of the work was altered as a result. In other cases, it had to be decided whether old technologies could be replaced by newer technological possibilities, even if did not just imitate their effect but also updated it (migration). This was necessary, for example, when technical defects of the hardware components had to be eliminated and the work could only be repaired by employing new technological possibilities. In general, with all measures the spatial concept of the installation had to be preserved.
The goal was to find presentation forms for the media art works analyzed that did justice to the specific aesthetic-artistic conceptions in each case. It was therefore important to study which aspect accounted for the authenticity of a media art installation and to define which characteristics were indispensable to the given installation.