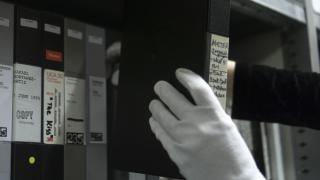 ARCHIV DER STIFTUNG IMAI
FOTO © ANDREA SIGRIST 2018
i
History
The Inter Media Art Institute (IMAI) was founded in 2006, when the Düsseldorf municipality and the local art institutions NRW-Forum and Stiftung Museum Kunstpalast joined forces with Kulturstiftung des Bundes (Federal Culture Foundation) and Kunststiftung NRW (Culture Foundation North Rhine-Westphalia) to preserve the collections and continue the activities of the Cologne media art distributor 235 Media. Axel Wirths and Ulrich Leistner had founded 235 Media in 1982 as a tape label and distribution platform with a focus on underground and independent music, specifically punk, postpunk, new wave and industrial, before venturing into the distribution of music and artists' videos a couple of years later. By the late nineteen-eighties, they had established an international video art distribution program that rented out videos by artists to exhibition venues, festivals, and TV stations all over Germany. 
Since 2006, the Inter Media Art Institute (IMAI) has been devoted to archiving the collections of 235 Media as well as exhibiting the works and keeping the distribution program alive. IMAI continues to operate a growing distribution program with more than 120 artists whose works are hired out for festivals, exhibitions, and screenings. Further IMAI realizes their own discourse and exhibition program. 
Collection
With more than 3,000 works, the IMAI archivepresents a unique combination of the Western canon of video art history dating back as early as the nineteen-sixties as well as underground music videos from the nineteen-seventies up until the nineteen-nineties, including a wide range of genres such as music-themed documentaries, concert recordings, music clips, scratch videos, and band demos. With this combination, the collection provides important insights into the broad scope of artistic as well as musical practices with video before and after the medium became established as an artistic genre or an art historical category. The collection ranges from Dara Birnbaum's musical clips and Brian Eno's video paintings to Ulrike Rosenbach's artistic collaborations with electronic music pioneer Conrad Schnitzler and further to concert recordings of Die tödliche Doris, Throbbing Gristle, Der Plan, Einstürzende Neubauten, Malaria, and Minus Delta T.
Catalogue
More than 1,000 videos are available in full-length in the catalogue on our website. Access catalogue
Make an appointment
We would be happy to assist you in researching our holdings. Just send an e-mail to info@stiftung-imai.de to arrange a viewing appointment. We look forward to your visit!