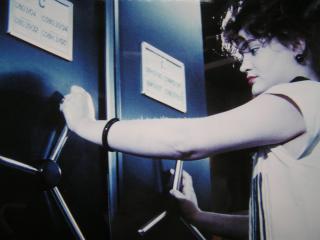 Monika Funke Stern, Zum Glück gibt's kein Patent, 1985, Filmstill © VG Bild-Kunst, Bonn 2023 für Monika Funke Stern
i
About the Noise in the Archives
A Diversity-Oriented Processing of the Audiovisual Collection of the IMAI Archives
Date
01.01.2023 - 31.12.2024
The IMAI Foundation archives comprise about 3,500 international video art works and audiovisual documents dedicated to music subcultures and countercultures from the 1970s to the 1990s. Following different research and digitization projects, 1,500 videotapes have been catalogued and digitized since the establishment of the foundation in 2006. 
About the Noise in the Archives is dedicated to processing videotapes, predominantly in VHS and U-matic formats, that have been under-documented thus far. With an emphasis on diversity, we will screen, catalogue, and digitize this audiovisual material over the next two years. In this process, we will pay special attention to marginalized social groups and content related to their experiences.
A methodological-reflexive ambition is inherent to this project. As part of the indexing process, we will look at critical archival theory in an attempt to find ways to translate it into archival practice. By critically reflecting our own activities, we want to prepare diversity-oriented methods that will have a lasting impact on the structure of IMAI's archives, the way they are made available, as well as their cataloguing guidelines and database.
Archiving is a powerful practice. Archival processing, i.e., naming, describing, indexing, and cataloguing, has a significant impact on the future accessibility of the documents and objects in question. Archives are the basis of historiography. They can reproduce hegemonic narratives and collective memory structures but also counteract them if a diversity-oriented perspective is taken.
In the case of the IMAI archives, considering that the foundation makes large parts of its digitized collection freely accessible online, the way the videotapes are indexed has a decisive influence on how the history of video art and also the history of music subcultures and countercultures is remembered. Therefore, it is essential that About the Noise in the Archives considers contemporary queer, feminist, postcolonial, and archive-theoretical discussions, while also rethinking the position of the archivist. 
The research project is funded by the State Capital Düsseldorf and the Ministry of Culture and Science of NRW. The work of the research trainee is supported by Dr. Linnea Semmerling and Nele Kaczmarek (IMAI Foundation) in cooperation with Dr. Kathrin Dreckmann (Institute for Media and Cultural Studies at Heinrich Heine University Düsseldorf) and Dr. Dagmar Brunow (Linné University, Kalmar/Växjö, Sweden).