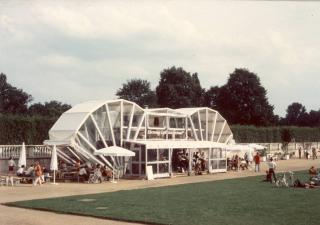 ELECTRONIC CAFé INTERNATIONAL | DOCUMENTA IX, KASSEL 1992
The Media Art Agency 235 MEDIA
Its significance with regard to the conditions of production, economizing, and internationalizing media art
Date
01.01.2015 - 01.01.2018
From its beginnings in the early 1980s, the media art agency 235 Media has crucially influenced the national and international development and spread of the emerging field of video and media art. It was taking shape not within the established art world but came out of subcultures on the basis of media utopias and also in close connection with the musical culture of the 1970s and 1980s. In the meanwhile, media art has not just arrived in museums and set processes of economization in motion. From its beginnings to the present, it has produced numerous influential innovations both with regard to the production of art and to forms of presentation, dissemination, and distribution. The latter can be illustrated particularly well using the example of the history and activities of 235 Media, because it has followed "from the inside out" central developments of media art.
Its activities included—to name just a small selection—the distribution of media art via television, publishing the magazine Video Congress, building international distribution structures, and participating in festivals and exhibitions (Videonale 5; vision.ruhr, etc.). In addition, even before the Internet existed, 235 Media employed artistic strategies of networking with its Electronic Café International (documenta IX, Biennale di Venezia, etc.). Through its work on production, distribution, and curatorial processes, 235 contributed to or initiated them and, operating with a goal of "democratizing the arts" in the spirit of Walter Benjamin, has itself become a substantial component of the history of media art.
The IMAI Foundation represents the ideal site for this ambitious research project, because when the foundation was founded in 2006, it received from 235 Media its immense archive of video and media art, exhibition documentation and other audiovisual formats, and extensive previously unpublished material. The media art archive of the IMAI Foundation thus offers an incomparable and thus far little explored store for the implementation of this project.
Dr. Renate Buschmann (director)


Dr. Jessica Nitsche (post-doc fellow)


Hiroko Kimura-Myokam (research fellow, until 2016)


Angelika Gwozdz (research assistant, until 2017)