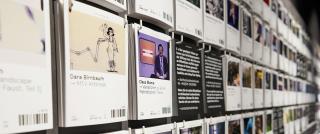 © Stiftung IMAI - Inter Media Art Institute, 2019
i
Videolounge
Permanent exhibition
The Videolounge at NRW-Forum Düsseldorf invites visitors to interactively explore the history of video art from the 1970s to the present. Info sheets on more than 1,000 videos are posted along the walls of the lounge and make it possible to experience physically the principle of searching and finding. The videos can be called up individually on available tablets or on personal smartphones. Comfortable seating furniture invites visitors to linger. The selection of videos is constantly expanded.
Temporary exhibitions
Constantly changing programs are curated for the large-scale projection in the videolounge.
Address
IMAI Videlounge c/o
NRW-Forum Düsseldorf
Ehrenhof 2
40479 Düsseldorf