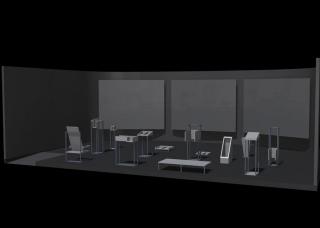 BILL SEAMAN, 3D-COMPUTER-ZEICHNUNG VON EXCHANGE FIELDS
Case Study 3: Bill Seaman, Exchange Fields
as part of the exhibition vision.ruhr at the Zeche Zollern II/IV (Dortmund 2000)
Typ
Case study
Date
20.08.2010
Description of the work
The interactive installation Exchange Fields consists of three screens onto which video sequences are projected. Installed up in front of them in the installation space are thirteen furniture-like sculptures that function as user interfaces. Whereas the video projections on the side screens are independent of interactions with the visitors, the central projection is influenced by their physical actions. Each sculpture invites the visitors to explore it haptically with a specific part of the body and by doing so trigger the playback of dance sequences from a choreography by the Dutch dancer Regina van Berkel. If several visitors touch different sculptures at the same time, the various images of the dance overlap on the central canvas. The video sequences have an acoustic background. The audio components consist of a poetic text by Seaman from a techno-ambient soundtrack, which is partially spoken and partially sung, and of sounds controlled by interaction.
Research approach
Among the essential steps of restoration are the reprogramming and content migration of existing video and computer technology and the replacement of now obsolete playback and presentation technology with modern devices suited to constant use. The goal is sustainable and—in light of frequent use by visitors—durable renovation of complex technology. This is intended to achieve as authentic a presentation as possible from art historical and conservational perspectives. The final documentation will not only recode the individual restoration measures but also serve as instructions for installing future presentations of this installation.
New presentation
From 20 August to 5 September 2010, the restored installation Exchange Fields was exhibited as part of ISEA2010 RUHR at the Dortmunder U.
Research Results
The results of the case study were presented on 24 August 2010, on the ISEA panel Still Accessible? Rethinking the Preservation of Media Art by Tiziana Caianiello (art historian, research fellow at IMAI) and Julia Giebeler (restorer, Fachhochschule Köln, Institut für Restaurierungs- und Konservierungswissenschaften).