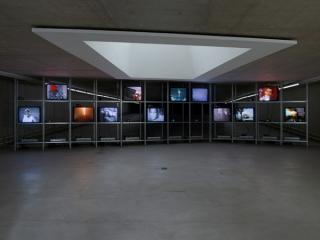 AUSSTELLUNGSANSICHT "BILDER GEGEN DIE DUNKELHEIT"
FOTO © IVO FABER, VG BILD-KUNST BONN, 2016
i
Long-Term Archiving
Beginning of Two-Year Archiving Project in Cooperation with the LVR
Date
01.01.2016 - 31.12.2017
In exchange with the LVR-Archivberatungs- und Fortbildungszentrum, the IMAI Foundation is beginning in February 2016 a systematic cataloging and long-term electronic archiving of its holdings in accordance with today's standards. 
The archive of the IMAI Foundation holds around 1,500 cataloged and digitized video art works that are important to the regional, national, and international evolution of this artistic genre. It also preserves hundreds of video art tapes from the 1970s to 1990s that have yet to be cataloged or digitized.
The variety of video storage formats in the IMAI archive in particular has made it clear that collections with audiovisual media demand to be cataloged and held in specific ways in order to preserve them and prepare them for long-term archiving. For the unique and historically significant archive of the IMAI Foundation, a future-ready infrastructure was developed to provide user-friendly access to the video archive while preserving it for coming generations.
But another goal of this project is to use the example of the IMAI archive as an exemplary demonstration of the long-term digital archiving of audiovisual media and to pass one the experience and information acquired in the process to other institutions as a model for how to proceed in the future.
Hiroko Kimura-Myokam


Michalis Nicolaides