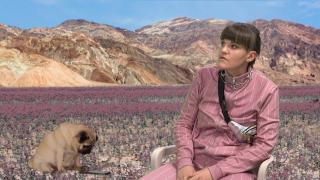 HITTING PUBERTY Anniversary Program
Corona
Due to the pandemic, we can only admit visitors who are recovered, vaccinated or tested. Please register in advance at hittingpuberty@stiftung-imai.de.
Take care of yourself, take care of others.
Register here
Program
03:00 p.m. 
Artist talk with Ji Su Kang-Gatto (Artist) and Róbert Olawuyi (Artist and lecturer at the Kunstakademie Düsseldorf) 
03:30 p.m.
Dear Distribution,
Keynote by Niels Van Tomme (Director, Argos Brussels)
[in Englisch]
04:00 p.m.
Screening Program Argos Brussels
05:00 p.m.
Birthday Wishes
from Hans-Georg Lohe (Head of Cultural Affairs Department of the Federal State Capital and Chairman of the IMAI Board),  Dr. Johanna Best (Advisor in the Ministry of Culture and Science of the State of North Rhine–Westphalia), Prof. Dr. Reiner Nachtwey (Professor of Design Theory, Hochschule Düsseldorf, institut bild.medien and IMAI Board Member), and Dr. Linnea Semmerling (IMAI Director)
06:00 p.m.
Men and Me
Performance by Ale Bachlechner
[in Englisch]
06:30 p.m.
Roundtable with Darija Šimunović (IMAI Research Associate), Prof. Dr. Renate Buschmann (Professor of Digital Arts and Cultural Education at the Universität Witten/Herdecke), Dr. Kathrin Dreckmann (Assistant Professor at the Institut für Medien- und Kulturwissenschaft of Heinrich-Heine-Universität in Düsseldorf), and Prof. Marcel Odenbach (Artist and Professor of Film and Video at the Kunstakademie Düsseldorf)
07:30 p.m.
Screening Program Vtape Toronto