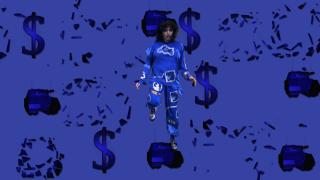 © Hiba Ali, courtesy of Vtape, 2021
i
The Age of Unreason
curated by Wanda vanderStoop
The IMAI - Inter Media Art Institute Foundation is celebrating its 15th anniversary and video art distributor Vtape Toronto has put together a video program for IMAI on the theme of HITTING PUBERTY to mark the occasion.
Rachel Echenberg, How To Explain Performance Art to My Teenage Daughter, 2018, 5:57 Min.
Mother and daughter embrace the difficult intricacies of explaining art to each other through an intimate action. This is intercut with a straightforward description of Joseph Beuys' well- known 1965 performance, "How to explain pictures to a dead hare".
Bridget Moser, Young Forever, 2008, 5:08 Min.
A DIY re-enactment of key scenes from The O.C., the American teen drama series that aired from 2003-2007, which focuses on the melodramatic characterizations of Marissa Cooper and Ryan Atwood, both played by the artist.
Untouchable, Thirza Cuthand, 1998, 4:14 Min.
A girl with a bad habit of falling for older women befriends a boy lover. This video is an examination of relationships between adults and teenagers.
Madelyne Beckles, Womanism is a Form of Feminism Focused Especially on the Conditions and Concerns of Black Women, 2018, 3:48 Min.
Infomercial aesthetics sell hard theory, a reflection on feminist cannons and consumption.
Tadasu Takamine, Inertia, 1998, 3 Min.
A minimalist performance video that raises questionson sex and violence, speed and technology, control and chaos and infatuation and fear.
Anthony Valiulin, Portrait of the Artist as Pierrot, 2021, 7 Min.
About girls, who want to look like boys. And about boys, who want to look like girls. 
Hiba Ali, H1ba - Curses, 2019, 3:55 Min.
H1BA summons her mystical powers to destroy cursed objects: military tanks, drones, and money.
Leslie Peters, 100 Prince Charles Drive, 2005, 11 Min.
100 prince charles drive uses selected moments, gazes and conversations from the artist's home video to reveal her life and context on the cusp of her sweet sixteen.
Steven Cohen, Chandelier, 2001, 16:37 Min.
The Artist is dressed in an antique French Chandelier reconstructed as a wearable tutu, which is then taken to a community of homeless people living in the harshest circumstances in cardboard houses along the railway line of Johannesburg City.