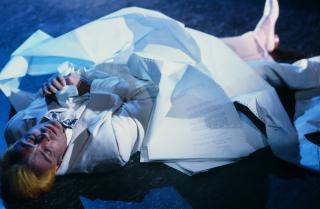 MONIKA FUNKE STERN "AM NÄCHSTEN MORGEN KEHRTE DER MINISTER NICHT AN SEINEN ARBEITSPLATZ ZURÜCK" (1986), FILMSTILL
© MONIKA FUNKE STERN, 2016
i
VIDEO BOX 3.1
"Es lebe das Lust-Netto!" Von Zukunftsvisionen, nicht eingelösten Versprechen und einem verlorenen Paradies.
Programm
VORPROGRAMM:
Hörner/Antlfinger: Svakoga dana u svakom pogledu sve više napredujem (Every Day, in Every Way I'm Getting Better and Better) (2016), 4 Min.
Max Almy: Leaving the 20th Century (1982), 10 Min.

HAUPTFILM:
Monika Funke Stern: Am nächsten Morgen kehrte der Minister nicht an seinen Arbeitsplatz zurück (1986), 62 Min.
Freier Eintritt
Monika Funke Stern wird per Skype zugeschaltet.
Kuratiert von Darija Šimunović