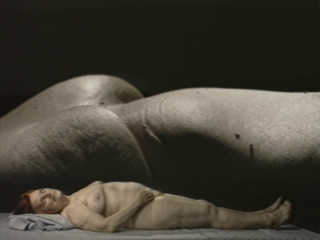 HARTMUT JAHN "AKT: INGE FüR FRANZ" (1994), VIDEO STILL
© VG BILD-KUNST, BONN, 2018
i
VIDEO BOX 7.3
On 18: Erotic Videos from the Archive of the IMAI Foundation
Program
Shelly Silver: We (1990), 4 Min.
Reut Shemesh: Wildwood Flowers (2015), 07:36 Min.
Lutz Gregor: Raft of Medusa (2018), 17:15 Min. (excerpt)
Hartmut Jahn: Akt: Inge für Franz (1993), 05:30 Min.
Monika Funke-Stern und Hanno Baethe: Das Wesen der Verwandlung (1990), 08:32 Min.
Reut Shemesh: Let's catch tigers (2013), 04:13 Min.
Free admission
There will be a conversation between the author and media artist Dr. Anne Schülke and Dr. Renate Buschmann, director of the IMAI Foundation.
Selected and commented on by Dr. Anne Schülke