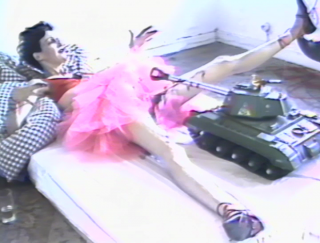 NORBERT MEISSNER / KLAUS MAECK ABWÄRTS, BEI MUTTI (VIDEOSTILL) © DIE KüNSTLER 2019
LET'S DANCE.
Music—Art—Video in the 1980s
Program
Norbert Meissner and Klaus Maeck, Abwärts, Bei Mutti (1981), 12:06 min.
Rotraut Pape, Die Flieger—Trilogie #2: Ein Hoch auf das Bügeln, music: Holger Hiller (1984), 03:10 min.
Marty St. James and Anne Wilson, Visual Art Songs for the 80's: Beatnik (1984), 05:00 min.
Gorilla Tapes, Lo Pay No Way (1988), 06:32 min.
George Barber, The Greatest Hits of Scratch Video Vol. I (1985), ca. 04:00 min. (excerpt)
Inge Graf and ZYX, Achtung! Raum-Kontrolle (1986), 04:13 min.
Chris Newman, 3 Rock Videos: Dandruff, Jealousy, My Wife Is French (1987), 11:28 min.
Curated by
Dr. Renate Buschmann
The screening will be repeated on 10.10.2019 at the Ludwig Forum für Internationale Kunst Aachen.