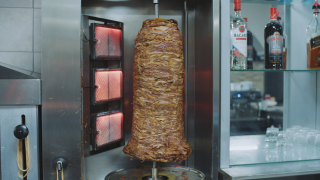 © Helen Anna Flanagan, 2020
i
The Kebab Helix
And other fast food fantasies
In fast-food fantasies, contradictory values of capitalist society collide: rationality and functionality but also immoderation and comfort. Videographers have been grappling with this tension since the 1980s by appropriating the iconography of multinational corporations, questioning the logic of the franchise system, denouncing the mass production of food, and confessing signs of gluttony. Their path leads from a kebab stand in Rotterdam by way of a burger joint in London to a drive-in in Los Angeles.
Artists: Dara Birnbaum, Helen Anna Flanagan, Gorilla Tapes alias Vulture Video, Petr Vrána
The opening takes place on Thursday, 8 October 2020, from 6–9 p.m. Advance registration is required at the NRW-Forum Düsseldorf website.
Helen Anna Flanagan, Gestures of Matter, 2020
12:13 min.

Dara Birnbaum, Fire! Hendrix, 1982
3:20 min.
Gorilla Tapes alias Vulture Video, Lo Pay No Way, 1985
7:00 min.
Petr Vrána, Microwaved Hot Dog, 1989
4:30 min.
In the context of the exhibition THE KEBAB HELIX we are showing on 6 November 2020 at 8 p.m. Muscha's film Decoder (1984, 87 min.) at the Filmwerkstatt Düsseldorf. Trini Trimpop (coauthor and coproducer) is our guest and explains in conversation with the IMAI's director Linnea Semmerling what the fast-food chain H BURGER is about.
The exhibition at the NRW-Forum had to remain closed because of the pandemic. We are instead presenting all of the works from the Screening Program online on the final weekend, from 29 to 31 January 2021. This way to the program!
Exhibition Venue
Videolounge der Stiftung IMAI im
NRW-Forum Düsseldorf
Ehrenhof 2
40479 Düsseldorf