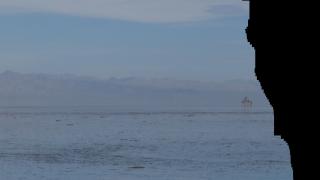 Videostill aus der Arbeit Imperial Irrigation von Lukas Marxt, 2020
Episode 3 - selected by Lukas Marxt
Hitting Puberty
As part of the anniversary program Hitting Puberty: 15 Jahre Stiftung IMAI, young artists from the foundation's distribution program are presenting their own works in relation to historical videos from the IMAI archive that were pathbreaking in their personal development. The Cologne-based artist Lukas Marxt (b. 1983) is preoccupied with human interventions in supposedly natural landscapes. Agriculture, tourism, and military interventions leave behind traces that the artist captures in his videos and thus works out a kind of geography of exploitation. This screening program with works by Gudrun Kemsa (b. 1961), Marcus Maida (b. 1964), and Marcel Odenbach (b. 1953) relates his observations to global economic circulation that extends from the blinking carrousel of the capitalist entertainment industry to the brutal vicious circle of colonialism.
INFORMATION
The exhibition opens on Sunday, 20 June, at 3 p.m. The artists Lukas Marxt and Gudrun Kemsa will be present from 4 p.m. onward.
Online registration is not required.  Contact data for tracing will be collected on site. For IMAI visitors, a viewing of HITTING PUBERTY in the Video Lounge will be free on Sunday, 20 June.
Screening Program
Gudrun Kemsa (b. 1961 in Datteln, lives and works in Düsseldorf) is a photo and video artist. In collaboration with the author and sound artist Marcus Maida (b. 1964 in Münster, lives and works in Graz, AT und Iserlohn), she created several videos between 1999 and 2002, including Merry-go-round. The first slowly, then ever more rapidly turning carousel is depicted in harsh, colorful light. The images overlap, and the rhythm of their movement fuses with that of the music.
Lukas Marxt (b. 1983 , lives and works in Cologne) makes abandoned landscapes and remote industrial sites the main figures of his videos and installations. Imperial Irrigation is the fourth work in his cycle about the Salton Sea in Southern California. In it he addresses the role of landscape in the context of the preatomic history of World War II and outlines the ecological destruction of the lake after the testing of dropping dummy atomic bomb in late 1944.
Marcel Odenbach (b. 1953 in Cologne, lives and works in Cologne, Berlin und Ghana) is one of the most important video artists in Germany. His unmistakable visual language results from the collage-like montage of television broadcasts, film sequences, and his own footage. Addressing colonial history is a recurring theme in his work, as in in Vorurteile, oder Die Not macht erfinderisch (Prejudices, or Necessity Is the Mother of Invention), which denounces economic exploitation in Africa.