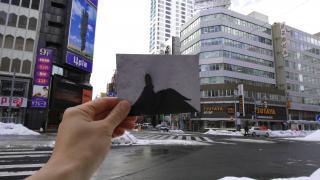 Episode 1 - selected by Maki Satake
As part of the anniversary program HITTING PUBERTY: 15 Years of the IMAI—Inter Media Art Institute Foundation, young artists from the foundation's distribution program will present their own works in relation with historical videos from the IMAI archive that have been inspiring, pioneering, or even trailblazing for their own personal development. The Japanese artist Maki Satake this exhibition series with a very personal selection of intimate, poetic videos on the journey of growing up.
Screening Programm
As an artist, college teacher, and author of standard works on the practice of video, Maria Vedder (b. 1948 in Nordhorn, lives and works in Berlin) has been influencing the art of the video in Germany for many years. The videos she has created since the 1970s are voyages of discovery that go beyond the visible. The enigmatic shadow play in Schwelle associates the movements of travelers in the transitory spaces of an airport or train station. The soundtrack that Brian Eno created especially for this video reinforces the impression of the unreal.
Maki Satake (b. 1980 in Toyokoro, JP, lives and works in Sapporo, JP) turns her own and archival photographs into animated films that negotiate the tension between recording and personal memories. WALK is the visual diary of a pregnancy in which the perspective of the unborn child occupies an important place. The work's subtle visual language produces an intimate, poetic atmosphere.
Robert Cahen (b. 1945 in Valence, FR, lives and works in Mulhouse, FR) is a trained composer and has been active as a video artist for nearly fifty years. Karine is a loving cinematic portrait of a girl, from birth to school age. In the numerous photographs replayed one after the other, she gazes openly, lightheartedly, and directly into the camera. The accompanying music with the crackling of LPs and the noises of the film projector evoke nostalgia.