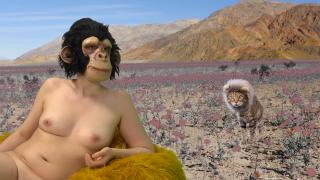 Episode 2 - selected by Ale Bachlechner
As part of the anniversary program HITTING PUBERTY: 15 Years of the IMAI—Inter Media Art Institute Foundation, young artists from the foundation's distribution program will present their own works in relation to historical videos from the IMAI archive that have been inspiring, pioneering, or even trailblazing for their own personal development. The positions selected by the Cologne-based artist Ale Bachlechner powerfully employ language and performance for the (self-)reflection of the figures.
Screening Programm
Since the 1990s Jill Scott (b. 1952 in Melbourne, AU, lives and works in Zurich, CH) has been creating interactive installations that reflect artistically on the insights of the neurosciences into human sense perception. Her early performative video work Double Space reinterprets mythological female figures and historical attributions of symbols with a playful use of experimental video effects.
Raskin is a performance collective in which Andreas Coerper (b. 1955 in Düsseldorf, lives and works in Hamburg and Potsdam) and Rotraut Pape (b. 1956 in Berlin, d. 2019 Berlin) from 1987 to 1992 worked together. Their often-shown work Du hast kein Herz is part of the canon of video art and captivates with its timelessness. The communication in love affairs with recurring misunderstandings and emotional stumbling blocks that is its theme emphasizes the power of words.
Ale Bachlechner (b. 1984 in Brixlegg, AT, lives and works in Cologne) is a performance and video artist and treats issues of real and media presentation of the individual and society. Like You Really Mean It addresses dubious strategies of self-marketing in the competitive society of dependence and self-exploitation in the name of cultivating an image. A performative (self-)conversation in a virtual Death Valley.
Stefan Panhans (b. 1967 in Hattingen/Ruhr, lives and works in Hamburg und Berlin) is a video and photo artist. In the focus of his profound yet also humorous observations stands the individual overtaxed by a flood of information and a compulsion to self-optimization. In the four-part miniseries Hostel, the voices of artists of diverse origin working under precarious conditions are translated into an explosive spoken-word performance.