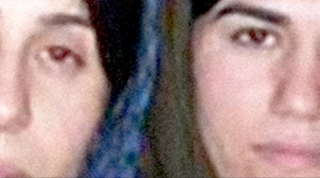 Courtesy: Capitain Petzel/ Leyla Yenirce
i
With Video Digest, the Videonale Bonn and the IMAI – Inter Media Art Institute Düsseldorf present an online video art magazine and an associated research and exhibition project at the Moltkerei Werkstatt, Cologne, complemented by the concurrent program series VIDEONALE.scope.
The Video Digest project began with an interest in Video Congress' video magazine Schauinsland which is located in the archives of the IMAI – Inter Media Art Institute. Video Congress was founded in Kassel in 1982 as a loose association of video artists in the wake of documenta 7. Wishing to work on related themes in a collaborative manner, to establish infrastructures for the young medium of video, and to simultaneously initiate a self-determined system of distribution for their works, the artists in this group worked with VHS tapes, each comprising several video contributions, which could be independently circulated, presented, and shared. The initiators were inspired by the first video art magazine entitled Infermental, which developed just a few years earlier by Gábor and Vera Bódy. Between 1980 and 1991, ten issues of Infermental, featuring international, contemporary video art, were published by changing editors and with different thematic focuses. While Schauinsland was more linked to youth culture and punk and new wave aesthetics and the contributions of the various collectives were at times intertwined, Infermental strengthened the idea of an encyclopedia[1] seeking to portray current video experiments in all their diversity. The third video magazine included in the project is the Amsterdam-based Zapp Magazine with "branches" in New York, Paris, London, and Copenhagen. It operated a decade later than the other two and succeeded in once again redefining the format of the video magazine as an independent space of art, critique, and documentation. The issues published from 1993 to 1999 did not only present video art, but also featured recordings of openings, lectures, and performances, which in their relaxed DIY aesthetics conveyed a polyphonic picture of the international art scene. 
Despite structural and formal differences, these three video magazines share a particular political awareness showing itself both in the themes and the way they self-organized and distributed their work. Video Congress, for example, captioned their first issue with the motto: "Für eine aktive Art Video" ("For an active art video")[2] and the editors of Infermental also adopted a decidedly political tone by addressing the simmering East-West conflict. Video Digest, initiated by the Videonale and the IMAI – Inter Media Art Institute, takes up these impulses and from a present perspective examines the resistive potential of moving images through a series of dialogically presented contemporary works. The newly commissioned videos, performances, and zines by Ji Su Kang-Gatto, Ayesha Hameed, Becket MWN, Rangwane, and Leyla Yenirce (in collaboration with Mazlum Nergiz) make use of diverse languages and strategies of protest and mobilization—but also of resignation—and reflect on a current video landscape shaped by video on demand, smart TVs, YouTube/Youku, TikTok, and Instagram.
Alongside new productions, the Video Digest exhibition presents the fourth issue of Infermental edited by FRIGO (Gérard Couty, Mike Hentz, Christian Vanderborght) with 102 contributions; issue one of Schauinsland entitled Erotik with contributions by Gruppe A & A, Fun & Art and Norbert Meissner; and issue six of Zapp Magazine, produced and curated by Corinne Groot, Jack Jaeger, Arnold Mosselman, and Rob van de Ven. They are set in an exhibition architecture by Lennart Wolff and are joined by a program of screenings and performances.
With this first issue of the new video magazine Video Digest, this project joins a series of previous exhibitions that recognize in historical video magazines a special relevance for current media discourses and video productions. In addition to the exhibition A Detour Around Infermental curated by George Clark, Dan Kidner, and James Richards at Focal Point Gallery in Southend-on-Sea in 2010 and the presentations of Zapp Magazine at the Kunstverein Amsterdam and KW Institute for Contemporary Art, Berlin, in 2019. The 1st International Videozine Screening in 1995 is an important reference for this as well, the first major survey show with twelve international video magazines curated by Jack Jaeger at Arcadia, Cologne, and Air de Paris, Paris.
Curators: Miriam Hausner, Nele Kaczmarek, Tasja Langenbach
Concept: Tasja Langenbach, Linnea Semmerling
[1] See the poster inscription Infermental. In: A Detour Around Infermental (Southend-on-Sea: Focal Point Gallery, 2012), 18 f.
[2] See Buschmann, Renate: Video Congress. Ein Kollektiv und Magazin künstlerischer Videoaktivist_innen. In: Video Visionen. Die Medienkunstagentur 235 Media als Alternative im Kunstmarkt, eds. Renate Buschmann and Jessica Nitsche (Bielefeld: Edition Medienwissenschaft, 2020), 104.