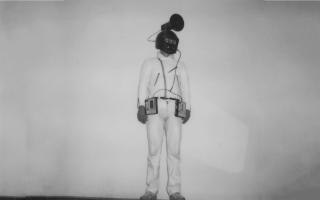 © Conrad Schnitzler Estate, Foto: Gisela Schnitzler
i
Conrad Schnitzler
"Sometimes it gets out of hand and turns into music"
The exhibition strives for an artistic survey and contextualization of the extensive oeuvre of Conrad Schnitzler (* 1937 in Düsseldorf, † 2011 in Berlin). It will bring together the audiovisual works of the self-proclaimed "intermedialist" and bring them to life in the exhibition spaces of the Kunsthalle. A festival program invites the artist's companions and successors to intervene in these spaces and to contextualize and reflect on his work through talks, installations, performances, screenings, and concerts.
Curated by Stefan Schneider and Linnea Semmerling together with Gregor Jansen and Alicia Holthausen.
Concerts
Friday, 10.6.2022
18:30h
KEIKO YAMAMOTO (London, UK)
23:00h
BILLY ROISZ (Wien, AU)
Saturday, 17.6.2022

15:00h
Cassette Concerts by WOLFGANG SEIDEL (Berlin, DE) and BERND ZIMMER (Polling, DE)
Saturday, 25.6.2022
18:00h
RAZEN (Brüssel, BE)
Friday, 12.8.2022
18:00h
NOEMI BÜCHI (Zürich, CH)
22:30h
NIKA SON (Hamburg, DE), TOLOUSE LOW TRAX (Paris, FR)
Saturday, 13.8.2022
15:00h
Cassette Concerts by Wolfgang Seidel (Berlin, DE) and Ken Montgomery (Richmond, VA, USA)
Sunday, 14.8.2022
15:00 Uhr
Christine Weyhreter alias MARIA ZERFALL (Baden Baden, DE)
16:00 Uhr
CENGIZ MENGÜÇ (Rotterdam, NL)