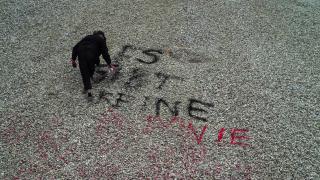 © VG Bild-Kunst, Bonn 2023 für Anna Zett
i
Anna Zett
Encountering disappearance and existence
In her works, Anna Zett follows the traces of what has seemingly disappeared and yet survives in manifestations of the unconscious. With analytical wit and emotional depth, the artist explores the colonial drama of the US fossil cult and deconstructs virtual encounters with dinosaurs in the Hollywood films. The messages of her performative inscription on the crumbling surface of a pile of gravel become unstable in the writing movement and disappear into the material. This is contrasted with the painting over of spontaneously created paintings on the Berlin Wall in November 1989 by the border police. Her most recent work deals with the state communism of the GDR and the emotional chaos it left behind. Anna Zett's poetic film works open up new readings of repressed history inscribed in artifacts, symbolisms, and bodies.
The exhibition is part of the IM FOKUS series, which presents new additions to IMAI's program.
Curated by Darija Šimunović
March 3 – May 14, 2023
Dinosaur.gif, 2014, 22 min., silent
Program in IMAI's video lounge:
March 3 – March 26, 2023
This Unwieldy Object, 2014, 47 min.
March 28 – April 23, 2023
Es gibt keine Angst [Afraid Doesn't Exist], 2023, 31:29 min.
April 25 – May 14, 2023
Endarchiv, 2019, 18:21 min.
The artist and author Anna Zett (*1983 in Leipzig, works in Berlin) studied gender studies, cultural anthropology and philosophy at Humboldt University and art with Hito Steyerl, among others, at the University of the Arts in Berlin. Her work has been shown internationally at art institutions and film festivals such as the Whitney Museum in New York, TENT Rotterdam, and Forum Expanded at the Berlinale. She is a multiple grant awardee of the Berlin Senate. Since 2020, her works have been included in IMAI's distribution program.
to the artist's website
Exhibition Venue
Videolounge der Stiftung IMAI im
NRW-Forum Düsseldorf
Ehrenhof 2
40479 Düsseldorf