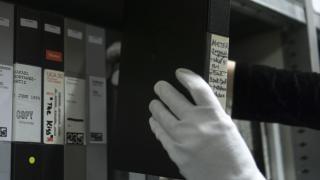 ARCHIV DER STIFTUNG IMAI
FOTO © ANDREA SIGRIST 2018
i
Job Vacancy
Research Traineeship
Typ
Announcement
Date
07.09.2022 - 16.10.2022
The Inter Media Art Institute (IMAI) is looking for a full-time research trainee (m/f/d) for an archival/curatorial research project. The position is limited to a period of two years, starting on January 1, 2023. 
The Düsseldorf-based IMAI is a non-profit foundation dedicated to the presentation, preservation, and distribution of time-based media art. With more than 3,000 works, the archive tells the international story of video and media art from the 1960s to the present.  In the exhibition space Videolounge at NRW-Forum Düsseldorf, visitors can explore this history interactively, while in the archive and viewing rooms of the foundation, scholars and curators are continously rewriting said history.  
The research traineeship is dedicated to the diversity-sensitive cataloguing, digitization, and exhibition of the analog holdings of IMAI. These holdings are audio-visual legacies of subcultures and countercultures of the Federal Republic of Germany from the 1970s to the 1990s, especially VHS and U-Matic cassettes from the fields of punk, postpunk, new wave, industrial and electronics. The trainee will be accompanied in this process by the head of the foundation Dr. Linnea Semmerling, the media studies scholar Dr. Kathrin Dreckmann (Heinrich-Heine-University Düsseldorf) and the film and archive studies scholar Prof. Dr. Dagmar Brunow (Linnaeus University Växjö). The research results will be presented at an international conference (e.g. ISEA or Media Art Histories) as well as with an exhibition or screening program. In the course of carrying out the research project, the volunteer will gain insight into all areas of the foundation's work: archiving, presentation, distribution, and communication.
Your tasks
Reviewing and cataloguing VHS and U-Matic holdings in the foundation's archives
Researching copyright holders, rights inquiries, communication with artists
Cataloguing of works in the collection database (The Museum System)
Coordination of digitization
Conception and realization of an exhibition or screening program
Public relations and communication
Paper presentation at an international media studies conference
Writing and editing of texts and funding applications
Your profile
you have an academic degree (master or doctorate) in a humanities discipline, e.g. art history, cultural studies, or media studies
you have practical experience with collections and/or exhibitions, e.g. through internships in museums, archives or other collecting institutions
you ideally have prior knowledge in the field of video and media art and/or the history of sub- and countercultures of the 1970s to 1990s
you are sensitive to diversity and discrimination in your academic work and your everyday interactions with people
you are curious, thorough, and structured as you immerse yourself in our archive
you show commitment as well as excellent communication and organizational skills as you organize your own exhibition
you enrich our team with your critical mind, your sense of responsibility, and your sociability
you have an excellent command of the German and English language, both written and spoken
you have experience with common office software, first experiences with collection databases are an advantage
We offer
 solid training in all areas of the foundation's work: archiving, presentation, distribution, and communication
 a salary of 50% of the municipal civil service pay grade 13, 1 in the first year and 13,2 in the second year
30 days of vacation per calendar year
flexible working hours
comprehensive interdisciplinary supervision and mentoring in cooperation with the Institute for Media and Cultural Studies at Heinrich Heine University Düsseldorf
intensive exchange with local and international partner organizations, e.g. NRW-Forum Düsseldorf or Filmform Stockholm
an international research network in the field of archival science, media art preservation, and memory studies of sub- and countercultures
participation in an international media studies conference (e.g. ISEA or Media Art Histories)  
creative freedom as well as opportunities to implement own ideas
personal mentorship and individual support in a small, dynamic team
We welcome applications from people of all cultural and social backgrounds, ages, religions, world views, or sexual identities, and are especially pleased to receive applications from people from social groups underrepresented in the cultural field. 
With your application, you give your consent to the processing of your personal data until the selection process is completed. Unfortunately, interview costs cannot be covered or reimbursed.  
For more information about the job, please contact Dr. Linnea Semmerling at info@stiftung.imai.de or +49-211-54 23 09 90.
Please send your application (letter of motivation, curriculum vitae, as well as references, letters of reference, proof of qualifications, and a text sample no older than three years) electronically in one PDF file (max. 4 MB) to info@stiftung-imai.de by October 16, 2022.
We look forward to hearing from you!