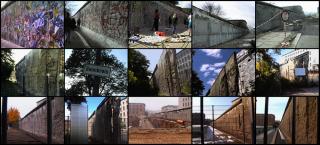 ROTRAUT PAPE: "DIE MAUER – DER VERTIKALE HORIZONT" (2015) © ROTRAUT PAPE 2016
Friday, 30 October 2015, 7:30 p.m.
Opening for the Theme "On Borders"
"The [Berlin] Wall and what it stood for ran like a negative horizon through my life, which began in Berlin five years before the building of the wall. Just one week after the fall of the Wall, its eventual disappearance was predictable. Over a quarter century I repeatedly set out along the trail that the Wall had caused—across Berlin's inner city.
The film rigorously depicts the Berlin Wall in its physical immensity and emotional presence in the everyday life of a city—and at the same time the effects of its disappearance on the city: a visual long-term observation of German-German reunification. After twenty-five years, the scar that the Wall left behind on the cityscape is nearly healed. Life grew with breathtaking speed from both sides of the death strip into no-man's-land. The film is intended as a monument to that process." (Rotraut Pape).
DIE MAUER: DER VERTIKALE HORIZONT
A project by Rotraut Pape, 1989–2014
UHD/HD, 131 min., split screen, stereo, 2015
The film premiered in early October 2015 and is now being shown in North Rhine–Westphalia for the first time.

Guest: Rotraut Pape, professor of film and video at the Hochschule für Gestaltung Offenbach

Curated by Dr. Renate Buschmann
Friday, 27 November 2015, 7:30 p.m.
TRACES AND BORDERS
In his "teleperformance" Claus Blume sounds out the media boundaries of the audiovisual. In the style of a music video Petr Vrána traces the mood in the divided country of Czechoslovakia in 1992 when Europe's borders were redefined. Myriam Thyes sets out in search for clues about the artist Sophie Taeuber-Arp, whose drawings were produced in exile during World War II. Van McElwee's contemplation on the boundaries of narrative spaces is translated visually as a densely populated metropolis. Barbara Hlali uses the means of the animated film to sketch out a family stories whose traces she discovers in the oral history in photographs and stories left behind.
Claus Blume, Borderline (1985), 5:37 min.
Petr Vrána, Perumos (Bomba) (1992), 4:14 min.
Myriam Thyes, Sophie Taeuber-Arps Fluchtlinien (2015), 10:10 min.
Van McElwee, Soft City (2014), 4:40 min.
Barbara Hlali, Schwester Gretel #2—Flucht (2012), 23:15 min.
Guests: Petr Vrána, Myriam Thyes, and Barbara Hlali. Van McElwee will join via Skype.
Curated by Darija Šimunović
Friday, 18 December 2015, 7:30 p.m.
ON THE SORROW OF PARTING AND THE JOY OF ARRIVING
Every new departure begins with the moment of parting and is aimed at reaching known and also unknown places. In Marcel Odenbach's Ständig auf dem Sprung sein, the montage of news and remembered images illustrates the restlessness of flight and expulsion. In La bestia Maria Vedder reveals the menacing presence of the notorious train that South American migrants take on their route to the United States. In Stranded in Malta Myriam Thyes thematizes the involuntary stop in travels from a historical and current perspective. In Flatlands Av. Margot Zanni sketches arrival as a long process of integration. The moment of uncertainty and at once relief on arrival is evident in Iris Hoppe's video Fern-Sehen.
Marcel Odenbach, Ständig auf dem Sprung sein (1995), 5:40 min.
Maria Vedder, La bestia (2012), 7:08 min.
Myriam Thyes, Stranded in Malta (2008), 11:04 min.
Margot Zanni, Flatlands Av. (2007), 14:06 min.
Iris Hoppe, Fern-Sehen (1994/2015), 18:30 min.
Guest: Myriam Thyes and Iris Hoppe. Margot Zanni joins via Skype.
Curated by Dr. Renate Buschmann
Friday, 12 February 2016, 7:30 p.m.
DIFFERENT SHOOTINGS
The video program Different Shootings is dedicated to the tense interplay of photography and moving image in the art of the video. Photographs that are integrated into the time-based medium of video create interruptions, awake specific associations, and produce media self-references. Standstill and motion confront each other, and different temporalities come into play. This screen draws attention to what happens when photography and video meet and interact. Boundaries and their transgression are brought to bear both in them medium and in the subject matter.
Robert Beriou, Ex Memoriam (1992), 5:10 min.
Robert Cahen, Stéphane Huter, and Alain Longuet, Cartes postales vidéo (1986), video, 10:15 min.
Paul Garrin, Man with Video Camera (Fuck Vertov) (1989), 5:58 min.
Patricia Hoeppe, Shooting at the Mexican Border (2004), 7:56 min.
Thomas Kutschker, Ich wollte einfach nur dieses Foto haben (1992), 24:40 min.
Guest: Patricia Hoeppe
Curated by Dr. Jessica Nitsche